Khan was most probably the puppy who captured my heart the most after we

lost our heartbreaker, Stompen. Fortunately, after some deliberation,
he moved in with Anja and Guido, something I am very grateful for.
I don't think I could bear to send him far away.
Khan resembles his mother the most and it will be exciting to follow his future development.

Pictures 0 too 4 months.
Facts:
Mother : N SE UCH Kangelani's Gentle Loba By Clay
Father: INTCH, NORDCH,FICH, DEVDHCH, CZCH, SEVCH, KLBCH, KLBV09, DKKV09
Inanda Mellberg Edelrood
Pedigree

Height: 64,5 cm Weight: 39 kg.
Full dentition, correct scissor bite.
HD: A/A ED:0/0 DM: N/N (Free)
EOAD (Early Onset Adult Deafness) : Carrier

MH- only norwegian
Show results here
Khan & mamsen på fjelltur :-)
Ny Norsk Utstillings Champion !!!
29/9-13 Khan and his family have been in the Norwegian mountain this summer, as always Anja has taken many beautiful Pictures :-)
1/5-13 Khan has been on a blood tracking course, great happiness when he found the hoof :-))
19/3-13- Our sweet boy 2 years !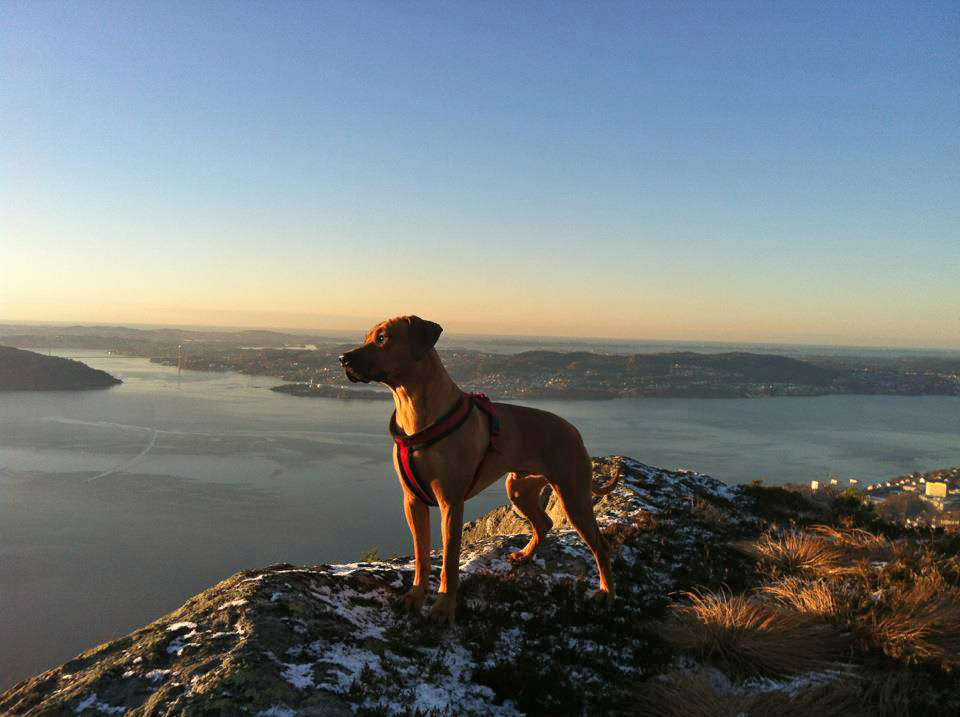 28/10-12- Khan almost 21 months.
Khan on the beach in Denmark !
Khan and Sasa
The mountains inHemsedal
Khan 1,5 year
9/6-12- Khan with his "brother" Shasa
Khan 16 months !
Shasa, Anja and Khan !
Khan and his " big brother" Shasa
25/3-12- Khan almost 14 months
27/2-12 Proud Khan with his first CAC and BOB, our little boy, we are proud and happy too !!!
Congratulation to Anja and Guido !
Our little handsome boy in winter wonderland !!
Khan 11 months.
5/12-11- our sweet boy ten months !
Khan and his big Brother Shasa
7/11-11- Khan 9 months

11/10-11- Many Thanks to Anja and Guido who has taken such a nice picture of our beautiful Khan
3/10-11 Fresh pictures from Anja of our beautiful boy who already is 8 months, time flies !
Khan's critique from last weekend on his Show-page

Khan enjoy to swim
5/-9-2011
Khan and Anja has been on trippel show this weekend Results see link Show

Anja, Loba, Khan og Mocca take a break in Eidfjord
13/8-11 - This weekend Khan went to an Open Show arranged by the Norwegian Pappilon and Phalene Club.
Our boy out conquered all the miniatures and became BIS Puppy!!
Since Khan had a bit of a bad experience on his first time out in the show ring, we thought a trip to the Open Show would be good practice for him. On arrival we found out that it was still possible to register for the show, and since we had all necessities with us we decided to enter the competition. And what a lucky strike! Khan had a wonderful day with lots of practice and positive experiences. First he placed BOB, then he went all the way to BIS. He also place second in the competition for audience favourite of the day. You could really see how he enjoyed those last couple of rounds accompanied by lots of applause! What a great end to a lovely but hot day. Thanks to Anja for turning up on such short notice and for being our photographer!

Khan and me.
Tannvisning gikk kjempebra, den pirkingen her og der er ikke så kjekt men det går fint :)
Beautiful Khan nearly 6,5 months- photographer Guido Sorrentini
6/8-11- Last weekendwasKhanon his secondexhibition, photosand resultshere.

Anja og Khan relaxing.
BeautifulKhanis similar tohismother !
10/7-11 Flotte Khan litt over 5 mnd, fotograf Guido.
Khan sjarmerer de fleste med sitt yndige vesen, han ser litt bekymret ut, men tror ike han har en eneste ting han trenger å bekymre seg for, han har det kjempeflott sammen med Anja,Guido og storebror Shasa. Jeg er så glad det ble slik at Khan havnet hos de, og ikke lang, langt vekk....Takk Anja:)
Khan har vært hos oss en liten uke og det gikk kjempebra. Gandhi og Loba syntes det var kjekt med besøk også. Jeg hadde ham med på jobb og det gikk veldig greit. De første to dagene sov han under pulten min, etter hvert som han ble husvarm fant han ut at kantinen måtte være det beste stedet:-) Tror Khan koste seg her hjemme med oss også, han er en skikkelig glad gutt, guttene i huset er han veldig begeistret for, spesiellt Jahn Fredrik, han er toppen ! Vi gleder oss til å ha ham på besøk igjen.
Khan har et aktivt liv med masse fjellturer og lek, han er en herlig glad gutt
Khan 5 mnd.
18/6-11
Khan i ringen for første gang på RR-Spesialen

Khan og Anja på besøk
Copyright ® Sonja Helene Olsen